Hip Hop Revisited
---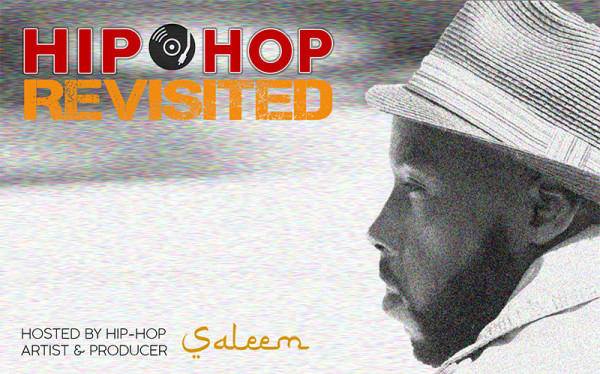 Wednesday

:

12:00am

–

2:00am

Saturday

:

2:00pm

–

4:00pm
Come explore the history and world of Hip-Hop every week with local artist Saleem!
I could introduce him to you as Saleem the emcee, or I could introduce you to him as Saleem the producer. However I think the most apropos title would be Saleem, the dopest emcee on production! Starting out with an ASRX-PRO and a microphone, Saleem has been blazing his trail through hip-hop's indie scene for several years. Performing with luminaries such as Common, The Roots, KRS-One, Rakim, and The Wu-Tang clan, to name a few, tends to hone and sharpen your skills. These experiences led him to craft his highly regarded debut album, which now lends its title to this new show, Hip-Hop Revisited. A bold title for a bold project that served as a welcome, and refreshing, introduction into the world of this multifaceted artist; or as one writer described him, "The embodiment of hip-hop's evolution."
Write a rhyme, make a beat, wash, rinse, repeat. That was the daily To Do list of this new-age throw-back artist. Or at least that was the schedule until he decided to put a band together with a few of his long-time friends. When Saleem & The Music Lovers formed it was like "the love child of The Fugees, The Roots, and A Tribe Called Quest all wrapped into one." Added to a portfolio that saw his music traveling across coasts, over borders and even onto television screens via CNN–one among many–and you can understand the level of excitement and anticipation that follows Saleem at every step. Baltimore born and bred, but universal in his appeal. Saleem is as comfortable performing on stage with the Baltimore Symphony Orchestra as he is sharing the stage with Red Man and Meth. He's also pretty comfortable rhyming over a beatbox during an unplanned acoustic set when his pad drummer's drum machine is mistakenly unplugged at a show with Talib Kweli…but that's a story for another time.
With the advent of new technologies and sounds being introduced into the landscape of the music industry, and new artists pushing the boundaries of what it means to be a hip-hop artist everyday, A lot of people have been asking the question, "Where is hip-hop headed?" I have your answer…Saleem.